As you may have heard, thousands of people in Northern Saskatchewan communities have been forced from their homes by raging wildfires. This week, the smoke was thick and was carried over many central U.S. states. More than 5000 people from 51 communities have been evacuated from their homes and are currently staying in emergency shelters across the province.
Volunteers & staff of the RCMP Heritage Centre in Regina are providing activities for the children and they could use our help.
As seen on Twitter @RCMP_HC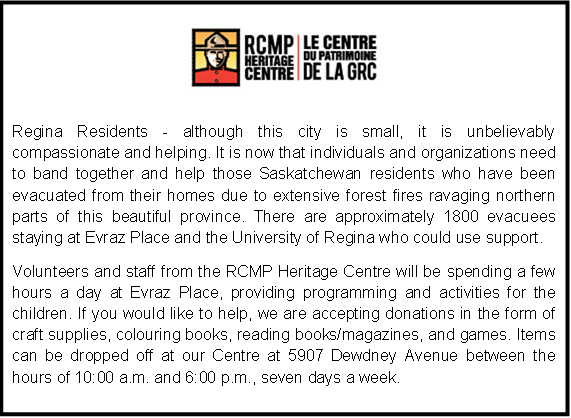 Books, craft kits & supplies, card & board games, colouring & activity books
can also be mailed directly to:
RCMP Heritage Centre
5907 Dewdney Avenue
Regina, SK
S4T 0P4
CANADA
If you are an online shopper (I am!), it is simple to shop online and save money on postage
by shipping your donation directly to the RCMP Heritage Centre at the address above.
I have included some helpful links and information.*
www.chapters.indigo.ca (Free shipping on purchases of $25 or more)
www.toysrus.ca (Free shipping on purchases of $49 or more)
www.walmart.ca (Free shipping on purchases of $50 or more)
Please consider a donation to help our neighbours! Thank you for taking the time to read and share.
xoxo
-Sunshine
P.S. *Please note that I do not profit in any way from clicks or purchases.